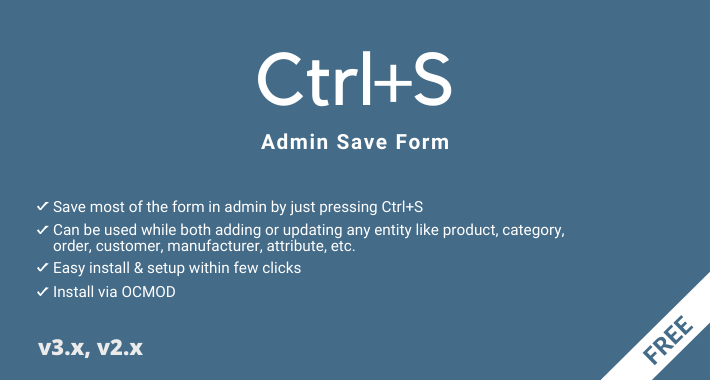 Ctrl+S Save Admin form is an awesome mod to do quick save/update without clicking the save/update button

Features

Save most of the form in admin by just pressing Ctrl+S

Can be used while both adding or updating any entity like product, category, order, customer, manufacturer, attribute, etc.

Easy install & setup within few clicks

Install via OCMOD.
Tags:
opencart admin ctrl s save form,
admin ctrl s save form opencart,
ctrl+s save form admin opencart,
opencart admin module,
opencart free module
Admin CTRL+S Save Form
Get extra 10% off for new customers valid for first purchase only.
Use Coupon Code - FIRST
Get extra 5% off on all purchases.
Use Coupon Code - EVERY
Note: Go to shopping cart to apply coupon.
Extension Details
| | |
| --- | --- |
| Compatible Version | 3.0.3.0, 3.0.3.1, 3.0.3.2, 3.0.3.3, 3.0.3.5, 3.0.3.6, 3.0.3.7, 3.0.3.8, 2.0.0.0, 2.0.1.0, 2.0.1.1, 2.0.2.0, 2.0.3.1, 2.1.0.1, 2.1.0.2, 2.2.0.0, 2.3.0.0, 2.3.0.1, 2.3.0.2 |
| Support Type | Premium |
| Support Period | 12 Months |
| Installation Instructions | Included in the ZIP |
| Modify Core Files | No |
| Required vQmod | No |
For Support & Customizations